This and That Thursday - October 27, 2011
10/27/2011 05:12:00 PM
Time for a new edition of This and That, a (somewhat) weekly roundup of interesting (mostly bookish) items from the web.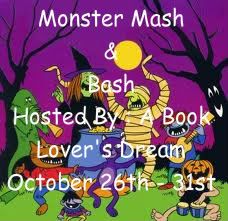 A Book Lover's Dream
is hosting the Monster Mash and Bash Giveaway Hop from October 26th through October 31st, so mark your calendars to win some great prizes! Participator signups are closed, but you can still hop to win!
---
---
My Bookworm Santa is the book blogger's version of 'Secret Santa.' So you sign up via the form below, and we'll pair you up with another random entrant. If you're only willing to ship to America, we'll pair you up with someone from America.(remember though, that the Book Depository ships free to most countries. This is a good way to meet some international book bloggers) We'll send their wishlist and address to you, and your wishlist and address to them. Then, before December 10th, we'll ask that you purchase a book from the wishlist we sent over, and send the book to your randomly selected blogger. And on Christmas (December 25th), you'll reveal yourself to the other person, and hopefully make new friends :) Even if you don't celebrate Christmas, you're more than welcome to join us.
---
ReadaThing is NOT a read-a-thon!! You do not have to read for the entire 100 hours unless you want to! ReadaThing is a time when we gather to read & share what we read. The best analogy I can offer is that RaT is like a relay race where runner hand a baton off to the next runner. Some of the readers sign up for specific reading times & some don't, but there is always someone in the group reading somewhere in the world.
Since I'm reading almost anytime I can, but will be working that week and weekend, I'm signing up, but outside of times, since I'm not certain when I will actually be able to get some reading in!
---

That is all for this week's edition!
Feel free to contact me at knittingandsundries(at)gmail(dot)com if you have an event that you'd like to include in This and That Thursday!