Friday Fragments - October 29, 2010
10/29/2010 10:02:00 AM
I haven't done
Friday Fragments
in a while, but I have a few things that I'd like you to know about that aren't quite enough for their own posts.
I found a post on
Cool Mom Picks
for those of us who are literary-minded and would like to show it through our clothing!
Pretty cool, eh? For all of us mommy and daddy literati,
Out of Print
also sells these in kid's sizes! For each shirt sold, one book is donated to a community in need of books through Books for Africa. SO .. cool shirts ... spreading the love of reading ... win win!
Bebe Boy James has finally discovered YouTube! The video that has been playing over and over and over? Here it is, live from Radio Disney:
WHERE did he find this old song?!?!
I'm getting more and more PR requests, so here's a tidbit for you PR people. If you can't bother looking at my "About Me" blurb to even figure out my name, you're not really good at your job. I'm not going to make my visitors subscribe to your newsletter or become your fan or follow you on Twitter or post something on their own blog or wherever in order for them to win your product. I'm also NOT going to take the time to write some miscellaneous post filled with random keywords and links that you provide .. nope .. not even if you pay me a whole $3! Each post takes at least half an hour (quite often more) and my time and my reader's time is worth more than that to me. If you'd like me to host a giveaway, and I think it's something that my readers would like ... AWEsome! When you send ME the books or products to send to the winners ... NOT so awesome. That costs ME money, and the next time it happens, you'll have to pony up for the shipping package, the time it takes me to go to the post office, and the cost of shipping .. seriously. (Unless, of course, you send me something uber-cool, like a Dyson or a Kitchenaid stand mixer, or free books of my choice for life!)
I miss getting a paycheck .. but I DON'T miss all of the politics and gossip and pettiness. I also think it's funny (not funny ha ha but funny in a karmic kind of way), that the ONE guy I complained about (which complaints in a round-about way led to my NOT having a job .. long story .. can't prove it, but knowing it is an entirely different thing), was charged THE VERY NEXT WEEK with 7 counts of menacing by stalking and 7 counts of telecommunications harassment. Goes to show ya .. if
I
complain (which I rarely do), there's something to it. May the karmic circle continue.
Misha at
My Love Affair With Books
is looking for guest bloggers for November! Exams are coming up, and we know how much time that will take up for her. So if you'd like to help her out, click on over to her page!
Last but not least, here are a couple of cool Halloweeney giveaways:
Don't forget, I'll be hosting Mailbox Monday starting in November, so click on over on Mondays to link up (and you'll get a chance to win a prize or two!)
I'll also be participating in the Gratitude Giveaways in November! I'm constantly amazed that people actually want to read what I write about, and to have over 400 followers since April without participating in "Follow Me" type hops is pretty cool! Unlike any of my other giveaways, you'll need to be a follower to enter this one, as it's in gratitude for all of you who follow, leave comments, or simply send me emails about what I've written!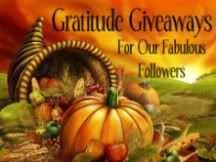 Hope your weekend is wonderful! Bebe Boy James and I will be busy, as tomorrow, we have a church harvest party to go to, followed by a community Halloween party. Sunday is my Middle Bebe Girl Jasmine's birthday (I used to call her "my little pumpkin"), so I'll be helping her celebrate THAT by baking her a cake, giving her presents, and probably watching two Grandbebes while she goes out with her friends (she hasn't asked me yet, but I know it's coming .. it will probably start with a telephone call ... "Mom, you know you love me, right?")